Our clients talk to millions of users every day









Contact us to learn more!
Type your number and we'll send you a text to start
Join thousands of businesses already using Botmaker!
Botmaker with WhatsApp built-in
Bots + live chat
Send and receive messages on WhatsApp using bots and live chat with no additional efforts.
Notifications
Start conversations with users by sending paid notifications, also called HSM Template Messages, directly from Botmaker.
More channels
Integrate WhatsApp to other chat channels from the same centralized inbox.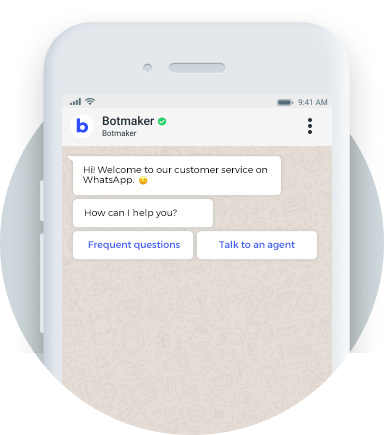 Plug-ins & APIs
Integrate apps using our plug-ins and APIs. Share data or optimize your implementation.
Developers
Access documentation and support for developers. Build code to enhance your bot with web services and external systems.
Customer service
Meet our team and use our support bot, help and learning centers. Get developer support and best practices.
Monthly subscription plans
Choose the plan that best fits your needs
Creating a Botmaker account is free.


WhatsApp Business API: $99.00 one time only with 30-day money back guarantee**
Frequently Asked Questions