Simulate the best plan for your business
Build your own bots
All plans include a self-service option. Working with a dedicated account manager is a great option to help you along the way.
Self-service
Configurarás la platarforma y accederás a la documentación disponible online.
Use a pre-configured bot.
Available during business hours.
Support via email, help center inside the platform.
Response time less than 24 hours.
Account Manager
Set-up the platform with support from our team, a dedicated account manager or an implementation team.
An expert will help you set-up your bots.
Options available for 24 hour support.
Support via email, WhatsApp, phone.
Response time less than 4 hours.
Push notifications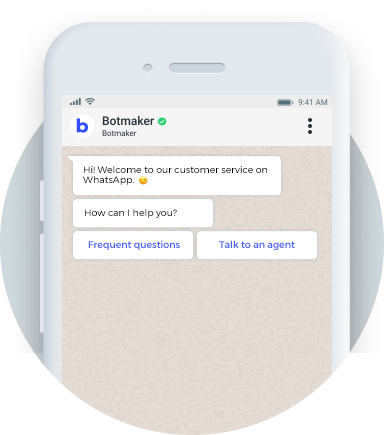 Grow your business using push messages at scale segmentation and custom templates on WhatsApp called HSMs.
HSM Pricing: transparent cost from WhatsApp + 20% or less in processing fees.
*Notifications or HSM Template messages are paid WhatsApp products to send messages to new users, or old users after 24 hours since their last message.

Messages sent as a response to user-initiated messages within 24 hours are free.

All HSM Template messages are first approved by WhatsApp to comply with their policies.