Our platform and services
The Botmaker Platform includes:
Bot Development
Build bots, automate flows and create responses. Integrate spreadsheets, systems, CRM and APIs. Manage multiple bots for all parts of your business.
Live chat
Manage live chat and hybrid conversational strategies. Serve thousands of agents, queues, messaging rules and business rules. Drive agent productivity.
Artificial Intelligence
Use natural language processing for building intents with artificial intelligence. Use our robust engine for understanding language and add field-specific NLP APIs.
Omni-channel Platform
Connect text and voice channels, including WhatsApp, Phone, Social Networks, Telegram, Webchat Plug-ins, Alexa, Google Assistant, Microsoft Teams and more.
Dashboards and Analytics
Track real time dashboard, reports and analytics. Build custom funnel reports. Export data using APIs and integrating popular reporting and BI tools.
Marketing engine
Notify users with push notifications and scalable messaging. Plan and execute messaging campaigns on most channels with a single, powerful engine.
Mobile App
Get access to new conversations and users and respond in real time with our mobile apps for iOS and Android.

Empower you live chat agents to read and respond to conversations from their mobile devices.

Manage millions of conversations from mobile as well as from desktop devices. Be there for your users with Botmaker.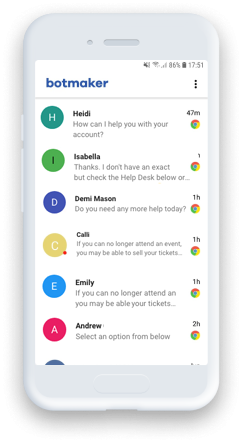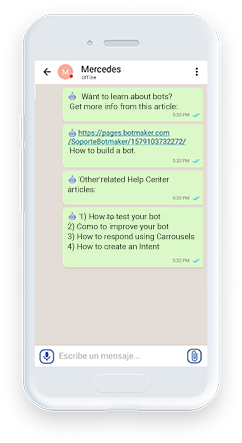 With Botmaker you can...
Interact with users on their preferred communication channels.
Optimize conversation flows to drive more sales and conversions.
Automate customer service and connect live agents at scale.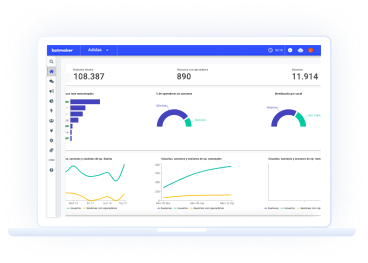 Send push notification messages on WhatsApp, SMS and other channels.
Build and improve engagement with leads and customers.
Offer help desk support to the teams and people in your organization.